Brother Number One, directed by New Zealand filmmaker Annie Goldson, reveals Rob Hamill's intimate journey to forgiveness as he testifies at the Cambodia War Crimes Tribunal on behalf of his brother, Kerry Hamill, whose life was taken in 1979 by the Khmer Rouge during the Cambodia genocide. Through real footage of the trial, viewers are provided an emotional connection with Rob Hamill as he confronts Comrade Duch, the Prison Chief of S-21 and the man that brutally tortured and murdered his brother.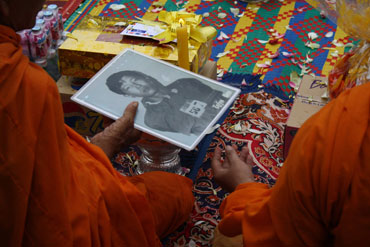 From 1975 to 1979, the Khmer Rouge led a campaign to intentionally destroy all political opposition. In four short years, they starved, overworked, and systematically executed over two million innocent people. Of these two million individuals, Comrade Duch and his cohorts slaughtered 12, 273 men, women and children in the S-21 prison by using chains, drowning chambers and suffocation. As Duch pleads for mercy, Rob remains unbelievably composed as the torturer explains that he, too, was a prisoner of the Khmer Rouge—that he didn't want to carry out such violent actions, but, rather, that he was "obligated" to do so.
On August 13, 1978, members of the Khmer Rouge unexpectedly attacked and kidnapped Kerry Hamill, John Dawson Dewhirst and Stuart Glass—three friends linked by their love of rowing—after their ship was inadvertently blown into the dangerous waters of Cambodia. Glass was immediately shot while Hamill and Dewhirst were taken as hostages into the notorious S-21 prison.
If the storyline isn't interesting enough, the title of the documentary offers compelling insight as well. The double entendre of Brother Number One not only refers to Kerry, the first of three brothers born to the Hamill family, but also to Pol Pot, the main political leader of the Cambodia genocide, who was known as "Brother Number One" in Communist propaganda.
As Rob retraces Kerry's last steps in Cambodia, he discovers more about his brother's courageous fight to live through the interviews of S-21 survivors, journalists, and interrogators who continue to remain free of conviction.
This powerful documentary allows audience members to visit a reality largely ignored by the international community. For ninety-nine minutes, viewers not only bear witness to Rob's struggles with balancing closure and vengeance, but also vividly observe the emotional battle of the Hamill family as they reopen a Pandora's box purposely sealed thirty years ago.
While the content of Brother Number One is mentally and visually appalling, audience members will be empowered by one man's incredible journey to seek truth, to seek justice, to seek morality for his beloved brother.
Host a documentary viewing with family and friends! Get the film.
Need advice on how to throw a successful movie screening? We've got you covered!